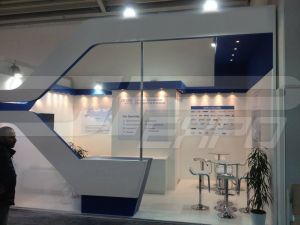 Floor: The floor is made of white laminate.
Walls: The back wall is 3 meters high, made of wood, painted in white. Side walls are as well 3 meters high and painted in white. The superstructure on the sides is painted in blue and will be in the shape as shown in layout.
Warehouse: The warehouse is located behind the back wall. The dimensions of the warehouse are 175cm x 150cm. The warehouse is made of wood and painted in white. The doors are located on the right side of the warehouse, open inwards and are lockable.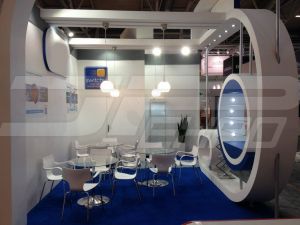 Floor: There is a blue carpet on the floor.
Walls: Walls are 350cm high, made of wood and painted in white. Circumferentially in upper part there is 40cm high grey stripe.
Wooden white construction: A white rounded wooden structure made up of beams is leading from the rear wall to the front part of the stall. Individual parts of the structure must be connected so the joints are not visible. The construction at its highest point is set to a height of 450 cm. The construction is 50 cm wide and its edge length is 15 cm. White wooden beams are leading from the front part of structure to the rear wall. There are 6 beams in total, set in 2 groups of 3. From the central beams there are 2 round shaped droplights hanging, so 4 droplights in total.