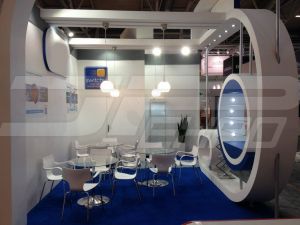 Floor: There is a blue carpet on the floor.
Walls: Walls are 350cm high, made of wood and painted in white. Circumferentially in upper part there is 40cm high grey stripe.
Wooden white construction: A white rounded wooden structure made up of beams is leading from the rear wall to the front part of the stall. Individual parts of the structure must be connected so the joints are not visible. The construction at its highest point is set to a height of 450 cm. The construction is 50 cm wide and its edge length is 15 cm. White wooden beams are leading from the front part of structure to the rear wall. There are 6 beams in total, set in 2 groups of 3. From the central beams there are 2 round shaped droplights hanging, so 4 droplights in total.
The showcase is attached to the front wall of the structure by 4 aluminium round profiles. Diameter of the showcase is 140 cm. 2 profiles are fixed on the upper part; 2 are fixed on the lower part. There are 4 white spot lights on each side inside the showcase, so 8 spot lights in total. There are 3 glass shelves in the showcase. On the upper and lower part there is a decorative wooden half-moon shaped panel. From the outer part of the showcase there is another wooden decoration in a shape of half-circle of 50 cm width, its rim is 10 cm long.
Warehouse: Warehouse is located in the corner between two walls. Dimensions of the warehouse are 100cm x 200cm. Warehouse is made of wood and its walls are painted white. Doors open inwards and are lockable.
Inside the warehouse will be placed:
fridge
100 cm long and 25 cm wide wooden shelves (mounted above fridge)
coat rack mounted on the wall
Sensio coffee maker
kettle
multifunctional socket with three outlets
trash can
1 coffee pack
1 pack of cane sugar
20 paper cups
Open space:
3 round shaped glass tables with diameter 90 cm
12 white revolving chairs
1 glass showcase:
50cm x 50cm x 200cm, 3 glass shelves; showcase is lockable, on the upper side there are two spot lights, upper and lower part is made of wood and painted in white.
Lightning:
9 HQ white lamps (150 Watt)
16 white spot lightsy
Electricity: There will be floor socket at every table, 1 multifunctional socket with 3 outlets inside the warehouse