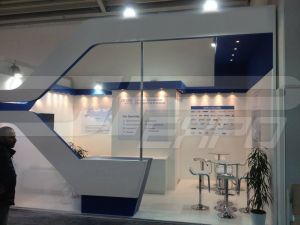 Floor: The floor is made of white laminate.
Walls: The back wall is 3 meters high, made of wood, painted in white. Side walls are as well 3 meters high and painted in white. The superstructure on the sides is painted in blue and will be in the shape as shown in layout.
Warehouse: The warehouse is located behind the back wall. The dimensions of the warehouse are 175cm x 150cm. The warehouse is made of wood and painted in white. The doors are located on the right side of the warehouse, open inwards and are lockable.
Inside the warehouse will be placed:
Mini fridge
Kettle
3 shelves
Coat rack mounted on the wall
Thrash can
Multifunctional socket with 3 outlets
1 Coffee pack
1 pack of Cane sugar
20 Paper cups
Water dispenser with cold and hot waterd
Lighting:
6 HQ white lamps
26 white spot lights
Open space – Furniture:
2 round glass bar stools
10 white bar stools
1 brochure rack
1 white leather sofa with three seats - 190cm long
2 white leather armchairs
1 white or glass table
3 decorative plants
1 plasma screen with USB connector - 42 inch
Espresso coffee machine
Electricity:
1 multifunctional wall socket with 3 outlets
2 sockets in meeting room
1 socket with 2 outlets at the Espresso coffee machine